MBA Executive Information Session at City Campus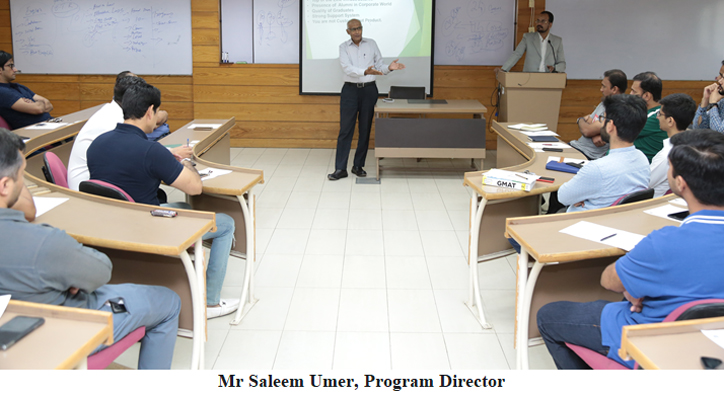 In the sunny afternoon of Saturday August 3, 2019, a group of young, energetic and enthusiastic professionals gathered at IBA, Adamjee Academic bloc to explore the power of MBA Executive program. A short notice invitation attracted 50 serving executives to visit main campus and attend a special information session.
The main purpose of the session was to introduce and brief the aspirants of MBA Executive and address their queries. This two hour session commenced with recitation from Holly Quran, National Anthem and IBA Corporate Documentary. Mr. Muhammad Munawar, Program Manager, briefed the participants about the structure, courses, rules aptitude test and interview etc. Followed by this Mr. Saleem Umer, Program Director took the questions from audience and shared valuable information as to the advantages associated with this weekend program. The participants were highly impressed and motivated to seek admission at IBA. The event ended with a campus tour and serving refreshment at the Alumni Student Center.
The 2nd Information Session for Fall 2019 test which is scheduled on Aug 11, 2019, will be held on Thursday August 8, 2019 at IBA CITY CAMPUS. Please submit the form at this link: https://docs.google.com/forms/d/e/1FAIpQLSfGOAImtTCWTy_umLCI1YNHV4Wckb7wJt3OAugM_VZhSxK1hw/viewform?vc=0&c=0&w=1&fbclid=IwAR2d2uRvXUiwvdrZuc6M_sH_V8bmntr0W95Ci4yz0xlgC-UtMufGCJmvpWU